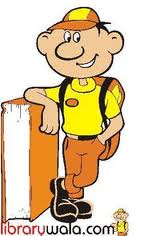 Have you always wanted to join a library and read different books every month but you couldn't because of lack of time? Well, there is one company that aims to bring the library to your doorstep and that too for free. Librarywala.com offers its members option to read unlimited number of books for either a lifetime or monthly subscription fees. Currently the company offers its members to choose from over 8000 titles. What's more they even pick up the books after you are finished reading. The delivery and pick up are absolutely free. Currently the service is operational in four cities of Mumbai, Pune, Mysore and Bangalore. The company plans to expand into other cities including Delhi and Hyderabad very soon.
Once you visit the website, it asks you to select your city. While this may be required for operational reasons, its a big turn off if the service is unavailable in your city. It would be advisable to at least let all visitors browse through the website and its various features. This way, the company can gain publicity and exposure to non-serviceable cities as well.
Librarywala.com has been voted one of the top ten hottest start-ups in India for 2008-09 by Tata Ten Hottest Start-ups. It did revenues of about 6.6 million Rupees in the financial year ending Mar 2009 and has a customer base of over 10,000.