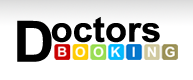 We had earlier reviewed DocSuggest. On similar lines, another startup based out of Bangalore has started online appointment system for Doctors called DoctorsBooking.com. Booking for appointments online not only offers convenience to the patients, it also helps Doctors to reduce cost and no-shows.
The company is founded by Nishad Rahman and Roopa Rangaprasad. The website allows both Doctors as well as Patients to signup for an account.
A doctor can manage all his/her appointments through the website and through the appointment management system available to him/her from his clinic. The website also allows appointments over phone and confirmation sent to the doctor. This enables a Doctor to literally "outsource" all appointment related activity for new and existing patients to DoctorsBooking.com. The system also allows doctors to track history of the patients. Apart from the patient management, the website provides an opportunity for Doctors to market their services through the website. Until now, most doctors rely on Word of Mouth or referral marketing. By listing their services on the website, Doctors get more exposure in online search engines and thereby increase their chances of getting new patients.
For the patients, the site offers various services such as convenience of booking the appointment online. It also has a search feature for patients who aren't sure what Doctor they wish to see. The location search allows patients to check the nearest Doctor available. Patients can also make the booking via phone. In this case, the patient has to remember only one phone number. Even if the Doctor changes his phone number, the patients can still call up the DoctorsBooking call center and take appointments.
The business model currently is based on a subscription for Doctors. Various plans are offered to the Doctors based on their needs. The target market is the urban tech savvy population in Tier-1 cities. Later the company plans to expand to Tier-2 and Tier-3 cities as well.
The service is currently being offered in the city of Bangalore only. The company has about 100 Doctors registered on the website and handles about 6-10 appointments everyday.
You can visit the website at DoctorsBooking.com. If you have any feedback for the company or about this article, feel free to leave a comment below.