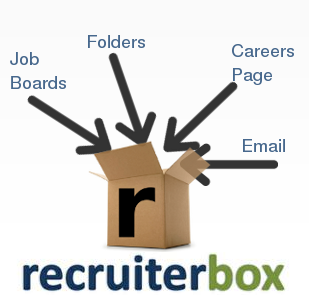 One of the most challenging task for a small business is to hire good people. Building a team requires lots of skills and patience. It is often said that an "A" team can make a "B" idea into success but a "B" team can ruin an "A" idea. There aren't many tools available in the market to help small business manage their recruitment and team building activity. Most of the tools focus on enterprise customers or recruitment agencies. Seeing this gap in the market as an opportunity, 3 young Indian Entrepreneurs decided to start a recruitment management tool for small businesses called RecruiterBox.
Recruiterbox.com is a SaaS based recruitment management system aimed towards small businesses which do not necessarily have a dedicated HR manager. It allows small business owners to post a job opening through the website. All applications received through email, upload and other means are centrally accessed through the backend system. Reviewing candidates, sharing feedback amongst team members and scheduling interviews are some of the features of the system.
Started by Girish Redekar, Raj Sheth and Raghuveer Kancherla, RecruiterBox already has some big companies such as Groupon China and Levi's India as its customers. The company offers a free plan for startups that need to manage upto two job openings. All other paid plans have a 14-day trial period. The company targets businesses that do not have a dedicated recruiter on-board and cannot afford to outsource their recruitment activity. RecruiterBox considers email and excel as its biggest competitor. According to the company, the biggest USP of the tool is its simplicity.
This is a great tool for small businesses and the free account shows the confidence this company has in its product. What this tool, however, cannot do for you is – get candidates to apply for the job! Rest can be left to recruiterbox.com
If you try the service or have any feedback, please leave a comment at the bottom of this page.